A four hour's drive from Melbourne, the long journey is certainly worth the wait. Overlooking Bass Strait, with no sight of neighbours, this elevated home occupies a premium location on the Great Ocean Road.
While this idyllic site offered numerous possibilities. Intermode was the third group to be asked to come up with a scheme for this client. Intermode pared back the design in order to distil the essence of what constitutes a great beach house in this spectacular location. Mindful of the challenging weather and the way this house was intended to be used as a weekender, the naturalist landscape frames the home.
Clad in black-stained timber, the three bedrooms and two bathrooms (plus a guest powder room) have been thoughtfully conceived to embrace the ocean view. The only hint of this view is upon arrival where there's generous glazing surrounding the front door through to the floor-to-ceiling glass windows directly opposite.
Approximately 300 sq metres in area, this house, with its open plan living areas was, as with all Intermode houses, designed to reduce unused space, such as hallways.
One of the challenges with this home was opening up the view to the south while allowing the use of generous outdoor decks to the north.
As well as the challenge of building on this fairly remote site, including attracting builders prepared to make the journey each day, there was the fact of being entirely off the grid.  Requiring the need for solar generation and, as importantly, a sustainable design. This design, which received a 6-star green star rating, includes generous eaves for sun protection together with concrete floors that act as a heat bank to absorb sunlight during the colder months of the year. And during the warmer months, the doors can be opened up completely to allow for cross ventilation.
As with many Intermode homes, spaces are fluid and walls, where necessary, such as in bedrooms and bathrooms, are strategically placed so all the views can be fully embraced.
As with all Intermode designs, there is the opportunity to customise each design, whether it's the materials, the bespoke joinery or as in the case of this house, a request to include a 'floating' open fireplace in the main bedroom.
We thank the whole team involved on the project.  Our construction partner VCON, the consultant team and our delightful clients!
Project Drawing
Project Features
3 Bedrooms

2 Bathrooms

Powder Room

Spine Laundry

Spine Mudroom

2 Car Carport

Single Garage

Off Grid House
Project Finishes
Cladding

Stained Timber Panel
Living Room Blinds

Transparent

Kitchen Bench

Reconstituted Stone
Reach out today to begin your Intermode journey.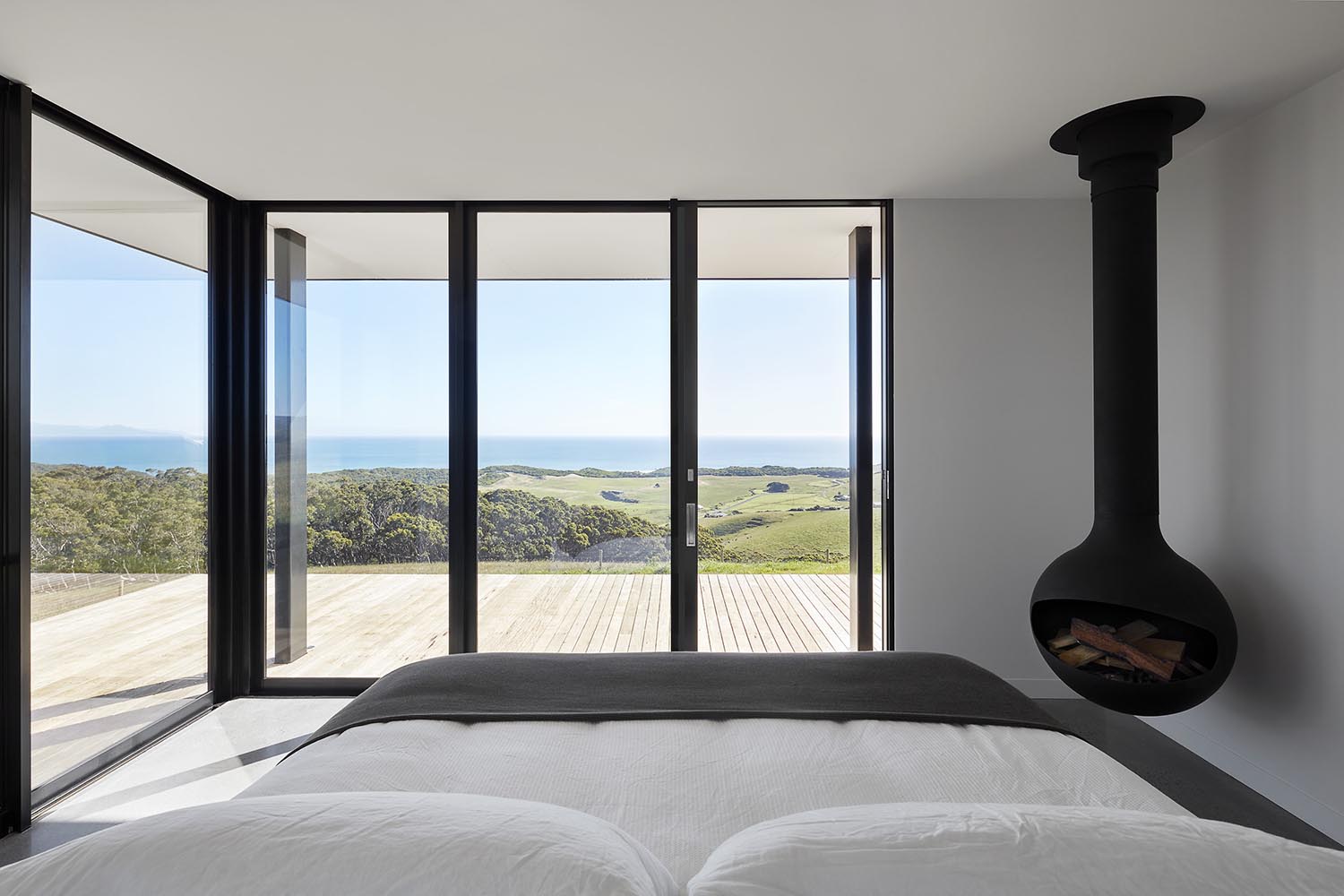 Your initial consultation is complimentary.
Enquire Now
Create Moodboard