While many of Intermode's houses feature black-stained timber exteriors, being recessive to the landscape, it has designed homes in fibrous cement or, as in the case of this house, Pacific teak. Treated in its entirety with the same timber used for the large pivotal front door, this house almost appears to be 'chiselled' from the same block of wood. For the owners, the choice of material was partially directed by the desire for a sense of texture and warmth in the landscape. One of the owners was an engineer and was keen from the outset to be active in the design process.
The shiplap timber used for the exterior was also selected for the way it fades gently over time.
Featuring three bedrooms and a study, the latter with an operable wall that allows it to form part of the front vestibule, the house includes wraparound decks and a protected outdoor terrace. This terrace is not only treated as an 'outdoor room' but also creates separation between the main bedroom and the open plan living areas.
The house width was extended from 6 to 7.2 metres in the Open Plan Living areas, allowing the owner to have larger spaces for entertaining family and friends.
Again, given the desire for texture and a rural feel, the kitchen features plywood joinery and stainless-steel benchtops, the latter benefiting from the worn patina that comes with regular cooking. The kitchen's poured in situ concrete bench juxtaposed with timber floors, further add to the layers and textures found in this home. And as with many country residences, there was sufficient space to include a mud room to the rear of the kitchen for removing wet gear and muddy boots.
Although the Merricks house comes with generous eaves for sun protection, there are also retractable automated canvas blinds to counteract the heat over the summer months. However, as with all Intermode designs, when these blinds are open, which is most of the year, there are carefully curated views of trees and rolling hills via strategically placed generous picture windows.
Project Drawing
Project Features
Fully Customized

7.2m Wide Wing

3m High Ceilings

3 Bedrooms

3 Bathrooms

Home Office

Butler's Pantry

Wine Storage

Outdoor Dining

Laundry

Mudroom
Project Finishes

Kitchen Back Bench

Stainless Steel

Kitchen Island Bench

Burnished Concrete
Reach out today to begin your Intermode journey.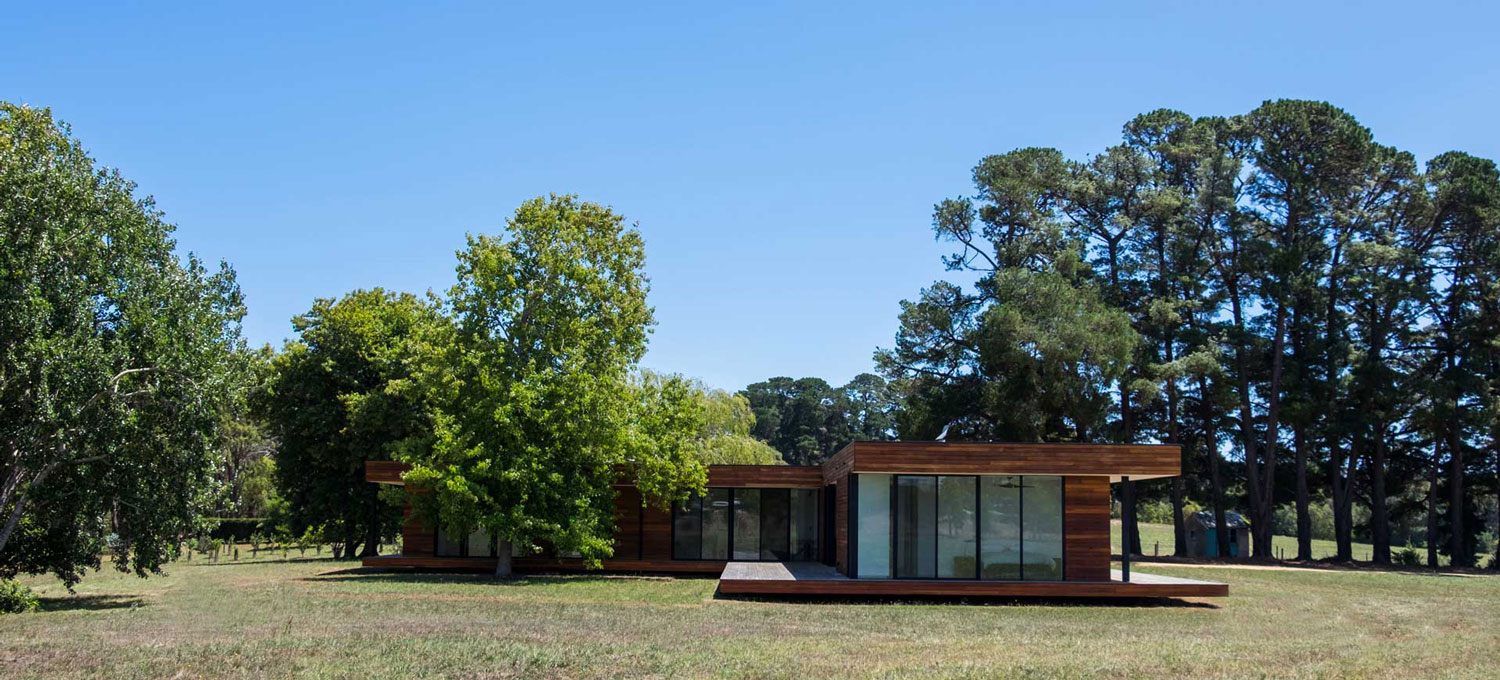 Your initial consultation is complimentary.
Enquire Now
Create Moodboard