'Pitch' is our latest house design that offers a unique and modern take on the classic pitched roof house. Ridge House showcases the beauty and functionality of 'Pitch'.
This new design, by Carr, delivers a bespoke, architect-designed home tailored to each client's specific brief and site.  Utilising the Intermode design system, each Pitch home is guaranteed to be distinct yet retaining the same reliable and proven design of our signature homes – at the same competitive price point and within the same delivery time frame.
We developed Pitch to provide not only a new house design solution but also one that addresses climatic and environmental challenges in regional areas of Australia, including the tropics and the highlands.
Our new design provides versatility, offering configuration as a single pavilion or a series of separate pavilions connected by glazed breezeways, as exemplified in Ridge House. The breezeways not only join the individual pavilions but also provide a focal entry to the house and zones for outdoor dining and living.
Sliding battened screens are integrated on the main glazed elevation and end elevations of the house to control sun penetration to the interior and to provide privacy.  As an option, hinged screens – rather than sliding – can be incorporated in the end elevations.
In the case of Ridge House the primary central pavilion houses the kitchen, living, and dining areas, featuring a cathedral ceiling that instils a sense of space, air, and light within the interior.
Our unique spine-wall storage system features full-height cupboards, also offering ample space for integrating kitchens, bathrooms, laundries, studies, and custom joinery. Floors constructed from burnished concrete can incorporate underfloor hydronic heating, providing uniform warmth throughout the home. Upgrades including timber flooring, air conditioning and fireplaces are also available.
An outdoor dining zone, featuring a timber deck, is easily accessible from the kitchen. A BBQ can be incorporated into this zone. A glazed breezeway links the Living Pavilion to the Master Suite Pavilion.  Additional timber decking sections can be incorporated in flexible positions along the glazed elevation.
The eastern pavilion of Ridge House serves as a master suite complete with a bedroom, ensuite, and study, along with generous wardrobe space. The western pavilion accommodates the secondary bedrooms, bathrooms and laundry. This flexible design allows clients the choice to determine the number of bedrooms, bathrooms and ancillary spaces required. The East & West pavilions in Ridge House incorporate Intermode Classic's flat ceilings – providing generous ceiling height with the economies that a flat ceiling offers.
Garaging and additional storage can be housed in a separate pavilion, which can be connected to the main house via a covered breezeway.
We've identified five critical factors that determine a successful building project: Design, Time, Cost, Relationships, and Risk. We apply a unique perspective to these elements, prioritising timeless design, an efficient workflow system, accurate cost estimation, and collaboration with a select group of building partners.

This approach significantly minimises risk and ensures superior-quality outcomes. The DNA of Intermode's signature homes is deeply ingrained in our new house design – Pitch. Providing the same high end architectural design, on time and on budget.

Exceptional made simple.
Contact us today to learn more about Pitch and how Ridge House showcases the beauty and functionality of our new house design.
Project Drawing
Project Features
Open Plan Living

Outdoor Dining

3 Bedrooms

2 Bathrooms

Study

Spine Laundry

3 Pavilions

Breezeways
Project Finishes
Glazing Frames

Powdercoat
Kitchen Bench

Porcelain Tile

Bathroom Tiling

Porcelain Tiles

Window Coverings

Curtains
Reach out today to learn more about Pitch by Intermode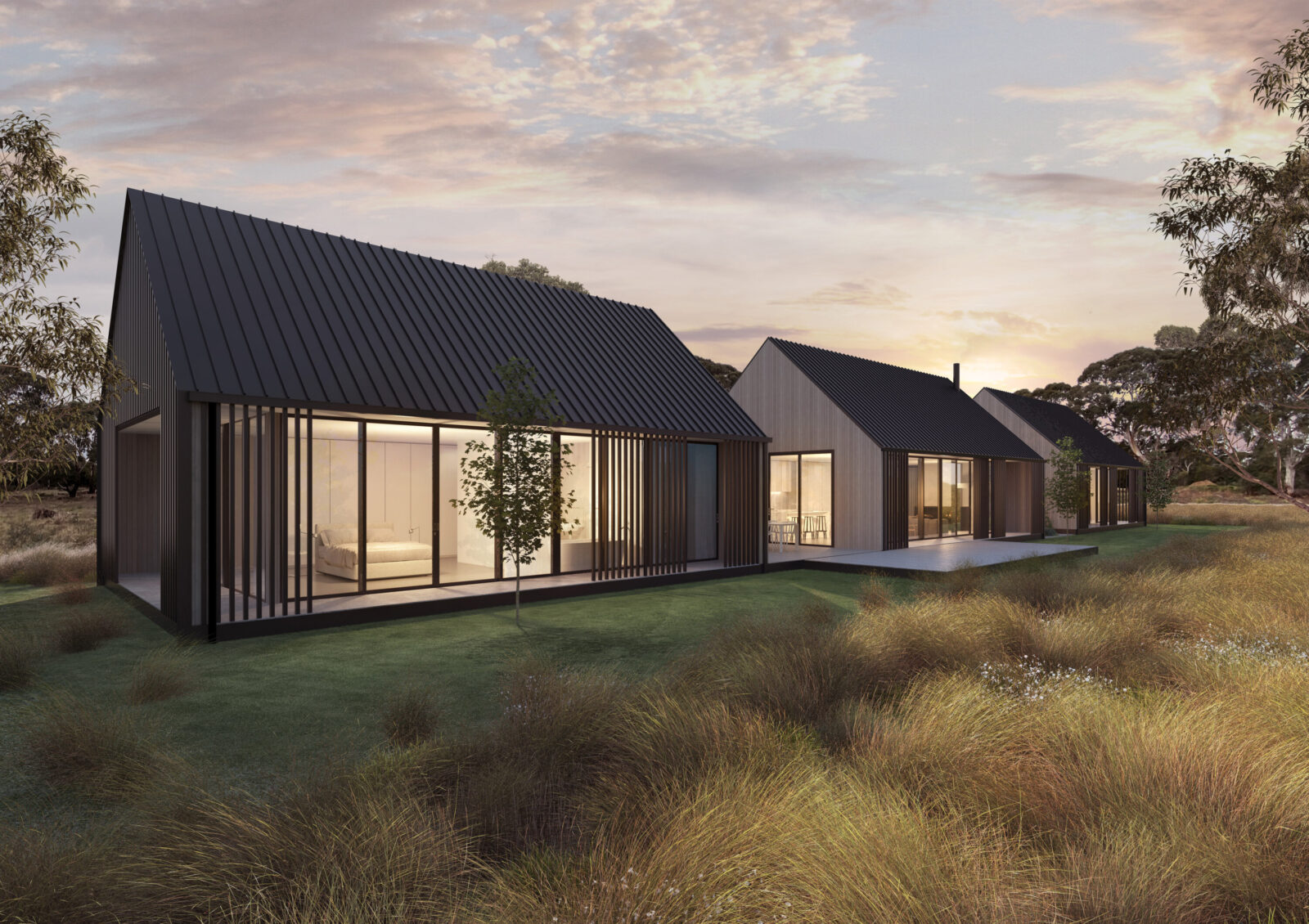 Your initial consultation is complimentary.
Enquire Now
Create Moodboard